New service
Elesa high quality chrome on engineering plastic rivals stainless steel for standard components in hygiene applications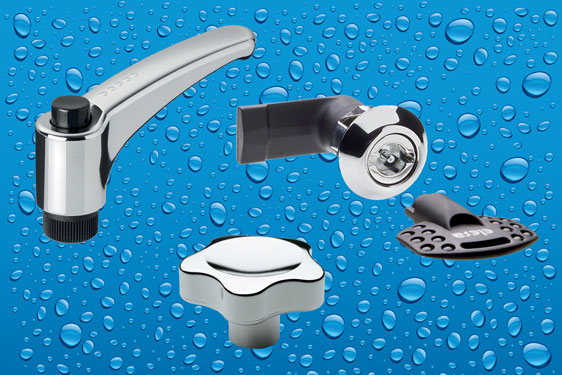 Elesa's chrome on plastic technology is particularly suitable for applications on machines and equipment whose parts, for hygienic reasons, must be frequently cleaned by using water jets or steam. It is therefore often a suitable replacement for stainless steel in many arduous or specialist situations at a very considerable cost saving.
Example items are the
VC.692-CR lobe knob series
for machine control, coupled with
ERX-CR adjustable clamping handles
and the
CQT.FM-CR quarter turn lever latches
for enclosure locking to IP65.
This chrome finished polyamide technopolymer range is an expanding feature within the extensive Elesa portfolio of standard industrial components as the chrome-plating finish makes the surface finish semi-glossy and homogeneous to facilitate cleaning operations and is tested at -30°C up to +80°C.
The chrome-plated surface is resistant to wear, scrapes and shocks. In laboratory tests carried out at ambient temperature (23°C), the chrome-plated surface proved to be resistant to: sea water, detergents, acetone, ethyl alcohol, formic acid and chlorine solutions.
Further information regarding Elesa chrome on engineering plastic products may be found at:
www.elesa.com/en/elesab2bstoreuk/high-performing-items/chromium--1
or follow them on twitter:
www.twitter.com/ElesaUK
.