Stacking kit with Sliding shelf for washing machine dryer - White
- Product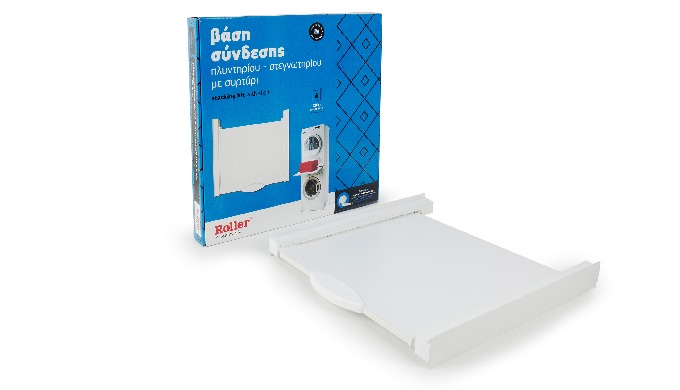 Stacking kit with Sliding shelf for washing machine dryer Roller Kappatos 00694 - White
Description:
Stacking Kit for Washing Machines/Dryers with Sliding Shelf
Connection kit / intermediate frame for washing machine and dryer.
Lashing strap 6m included for extra stability!
Universal product - Suitab
Description of the Product
Stacking kit with Sliding shelf for washing machine dryer Roller Kappatos 00694 - White
Description:
Stacking Kit for Washing Machines/Dryers with Sliding Shelf
Connection kit / intermediate frame for washing machine and dryer.
Lashing strap 6m included for extra stability!
Universal product - Suitable for 60 x 60 cm washing machines / dryers.
Space-saving - this kit allows you to store a washing machine / dryer column in tight spaces. Saves at least 0.36m2.
Optimal interaction of devices and components.
Ready for use product!
With pull-out worktop (shelf) – easy folding, comfortable loading and unloading of clothes – strain free at your waist - Maximum load capacity: 20 kg.
Easy/Extra space for a short ironing of clothes.
Box contents: 1 stacking kit with shelf, 1 lashing strap, 4 screws, 2 foam strips.
Price of the Product
Price on request
Characteristics of the Product
Type

Accesories

Model

00694

Dimension

60cm (L) X 55cm (D) X 4cm (H)

Brand

Roller

Certification

REACH

Origin

GREECE
Technical Details
Characteristics:

• Color: White
• It is suitable for washing machines and dryers with 60cm length and 45-70cm depth.
• The shelf is waterproof and can lift up to 20 kg!
• Optionally you can use a lashing strap around the washing machine and the dryer.
• Electrostatic painting is long lasting even on extreme environments and harsh use conditions.
• It comes with 2 years warranty
• It is made in Greece, Europe

Dimensions (assembled):

• Length: 60 cm
• Depth: 55 cm
• Height: 4 cm (internally) / 7 cm (externally)
Category of the Product