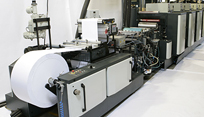 In our facilities you can find one Flexographic machine with an inline UV drying varnish unit, capable in covering your needs in flexible packaging.
This department is completed by one Cold foil machine for silver, gold or even holographic finish in our "flexo" products when requested.

Some of the products we produce with UV Flex...
Our recommended products and services
Description of the Service
In our facilities you can find one Flexographic machine with an inline UV drying varnish unit, capable in covering your needs in flexible packaging.
This department is completed by one Cold foil machine for silver, gold or even holographic finish in our "flexo" products when requested.

Some of the products we produce with UV Flexography printing are:
Adhesive Labels, Flexible Packaging, Aluminum foil, Wineglass labels, Fruit & Vegetable net ribbons
Price of the Service
Price not indicated
Category of the Service